Artists on the Edge & Writer's Wordshop
Artists and writers living with substance use or mental health problems also find an outlet with CenterPointe.
We collaborate with Lincoln Parks and Recreation to foster growth through creative expression.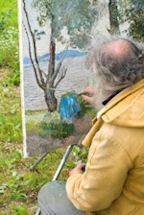 These programs create a supportive space for artists and writers—both trained and untrained.
Here local and regional talents and participants work together during twice monthly gatherings at the F Street Community Center.
Writers read their works in local venues and publish an annual chapbook of critiqued poetry and prose.
Visual artists submit work for gallery showings throughout the year, where their work is available for purchase.
Both these programs are open to anyone in the community. Check out our calendar of events for Artists on the Edge and Writers' Wordshop dates.
Like Artists on the Edge & Writer's Wordshop on Facebook for more details and to look at some of the work created!