Overview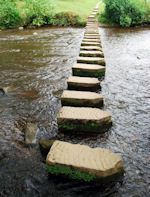 At CenterPointe, we provide pivotal treatment for recovery.
We offer a broad continuum of care – nearly 30 programs – to help you gain control of your life.
We use a harm reduction model to help you work toward abstinence and mental stability. This model recognizes relapse as part of the chronic diseases of addiction and mental illness. We help identify triggers and relapse prevention tools.
The harm reduction model also guides us away from moral judgments and toward the empowerment of people to discover their own healthy path of recovery. Our spectrum is inclusive, serving men and women, heterosexual and LGBT, religious and nonreligious individuals.
We encourage people to develop a Wellness Recovery Action Plan; explore a personal spiritual path; and utilize a 12-step program if it is helpful for on-going support of recovery.
Accessing CenterPointe Services
CenterPointe is a Region V provider. We can provide services on a sliding-fee scale for income-qualified people. We also accept Medicaid, Medicare and private insurance. Screening for services is available daily at 1000 S 13th St.
CenterPointe takes your privacy seriously. Click here to view our Privacy Notice.